How To Make Sure A Swing Set Is Safe
20th Jul 2023
Playgrounds and outdoor play equipment help kids get fresh air, make new friends, exercise, and have fun. These are all great reasons to encourage them to play outside. However, it's important to keep safety in mind when choosing playground equipment. Why? Because from top to bottom a swing set should be super safe so that you don't have to worry.
As a parent, you can make the playground safe and entertaining by ensuring that your kids are using high-quality, well-maintained, age-appropriate equipment. You should also check that the equipment is installed correctly and that the surface around it is playground safe and free of obstructions. Swing sets are one of the most popular choices for backyard play, but they can also pose risks if made from cheap materials or not properly maintained and installed.
At Swing N Slide, your kid's safety is our top priority. That's why we design and manufacture the safest swing sets on the market. Our top-rated playsets and premium swing sets feature heavy-duty construction, top-of-line finishes, and safety-tested components that meet or exceed all ASTM safety standards. We only use the highest quality materials to create playsets that will provide years of fun and memories for your family. So, what makes the safest swing set? Here are some of the key safety features to look for when choosing a swing set for your backyard: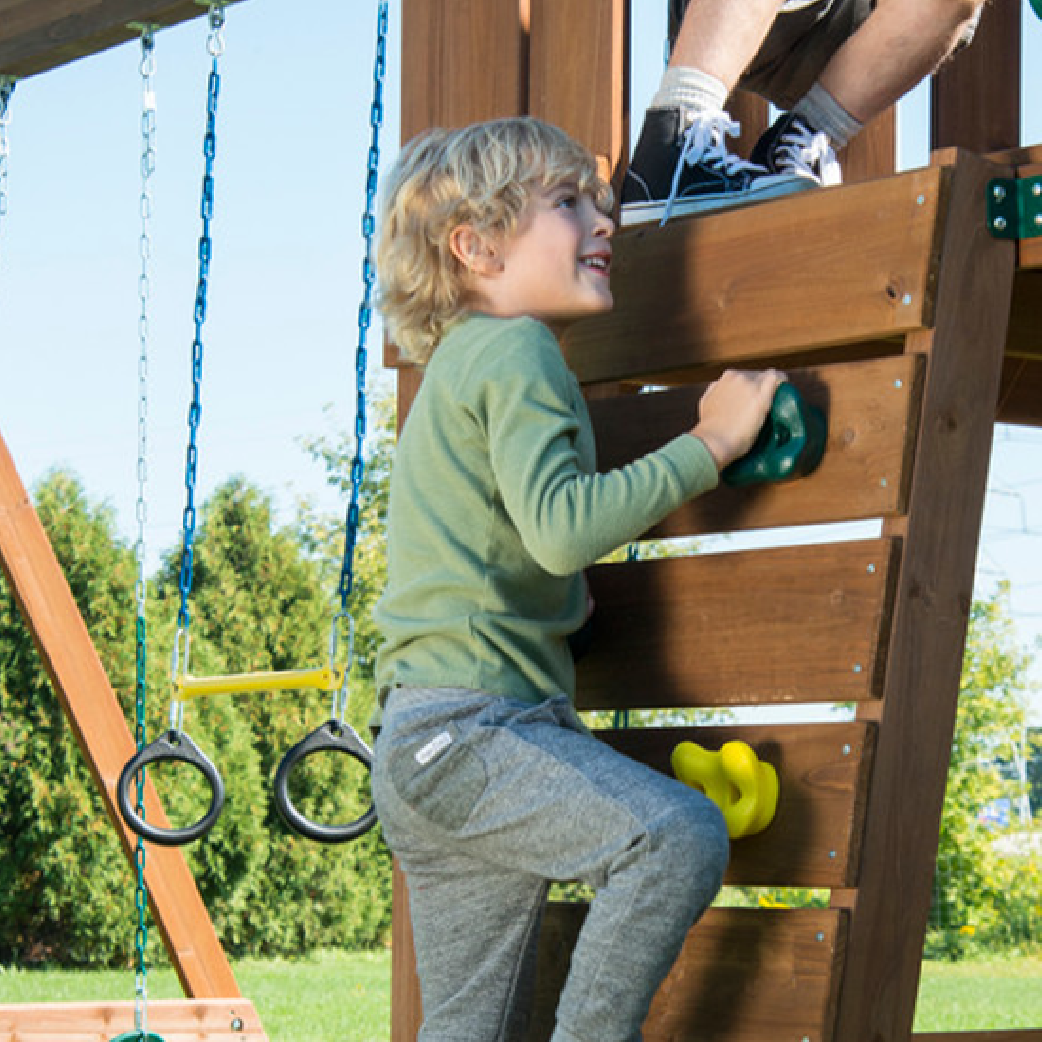 What Material Are Swing Sets Made Of?
According to the Consumer Product Safety Commission (CPSC), the materials used in playground equipment can play a big role in keeping kids safe. Swing sets and other playground equipment should be made of materials that won't splinter, crack, or peel.
Wood playsets can vary widely in quality from thin and flimsy to hearty, strong, and guaranteed to last for years. With the premium grade cedar and high-grade non-toxic plastics used in each of our playsets we pride ourselves with only offering sets that are made for fun and built to last. They are naturally resistant to rust, rot, decay, insect damage and more all while retaining their natural wooden swing set look that brightens up any backyard.
Not only that, but at Swing-N-Slide all our lumber is Kiln-dried and pressure-treated for long-lasting strength and durability. These premium sets come with pre-cut wood, making them easy to assemble over the weekend with the easy-to-follow instructions. Just make sure to apply playset sealant within the first ninety days of assembly and again every other year to ensure your set stays looking brand new.
With proper care, your wooden playset will provide years of fun for your kids and their friends. The heavy-duty lumber can support extreme weather conditions and the weight of multiple kids. For instance, our Ranger Swing Set comes with all the required lumber including pre-cut beams, joists, and supports. It promises years of fun and adventure for your kids and their friends. Plus, its smaller footprint makes it a great choice for anyone with limited space or who wants a smaller set that still offers timeless playset fun!
Whether your kids are playing on it during the summer or winter months, you can rest assured that they're safe and having fun. The wooden surface remains cool to the touch, even in direct sunlight, making it comfortable for kids to play on.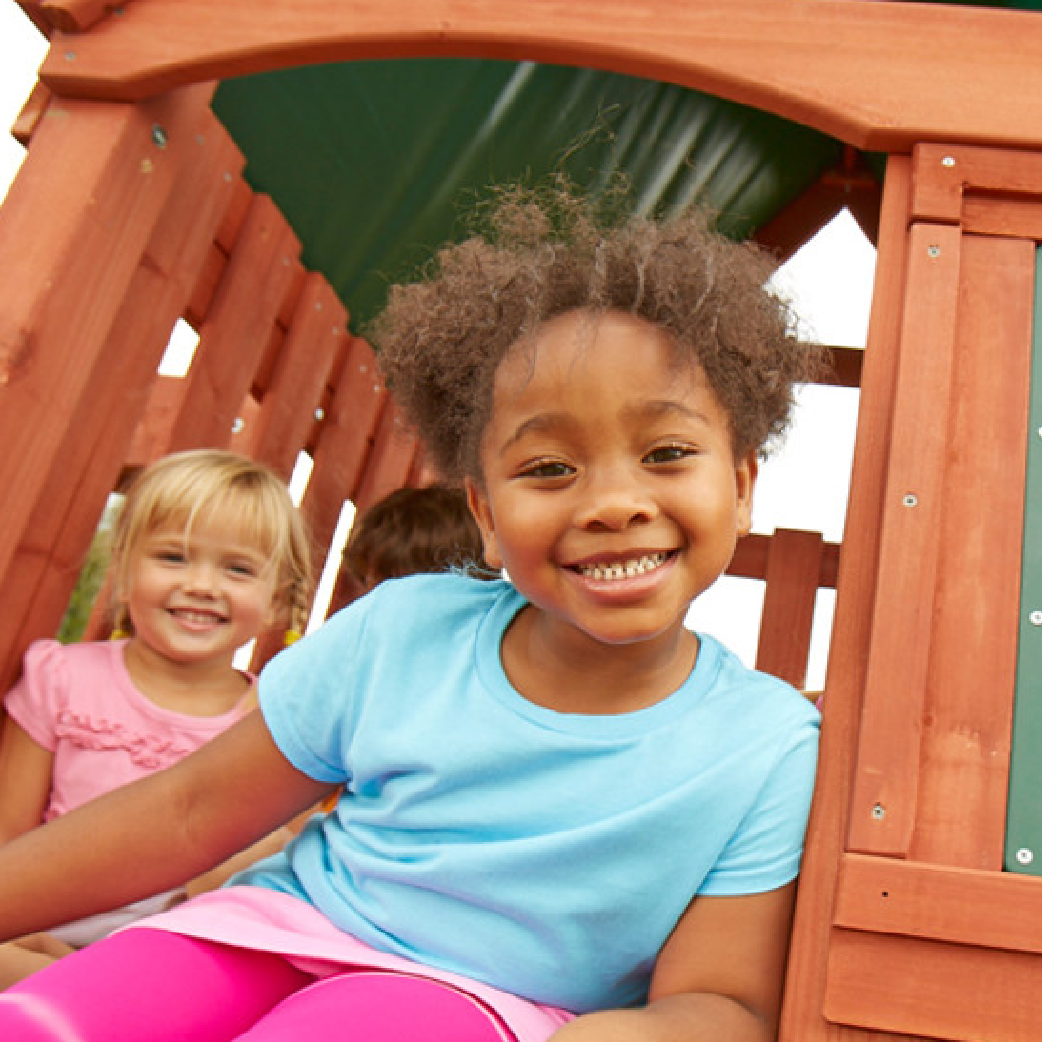 How Are Swing Sets Installed?
One of the most important aspects of swing set safety is the installation. Swing sets should be installed on level ground for stability so that no matter how hard your kids play it will stay secure. The CPSC recommends that playsets be installed at least six feet away from any structures such as homes or fences. This will help to prevent injuries and provide plenty of space for both quick swing breaks and large playdates.
Also, when installing a wooden swing set make sure that the ground is level and free of any rocks, roots, or other potential hazards. If you need to do any digging to create the perfect spot, make sure to stay away from utility lines or pipes that might create a safety hazard.
For the area around the set, it's a good idea to put down a layer of wood chips, mulch, fine sand, fine gravel, or rubber matting to help cushion any falls. The CPSC recommends a minimum depth of 12 inches for these materials.
The choice of the type of material is ultimately up to you, but it's important to make sure that the area around the swing set is soft enough to help prevent injuries in case of a fall. Our swing sets come with DIY instructions to help you through the installation process step-by-step. However, if you are not confident enough to install the swing set safely, we recommend that you hire a professional.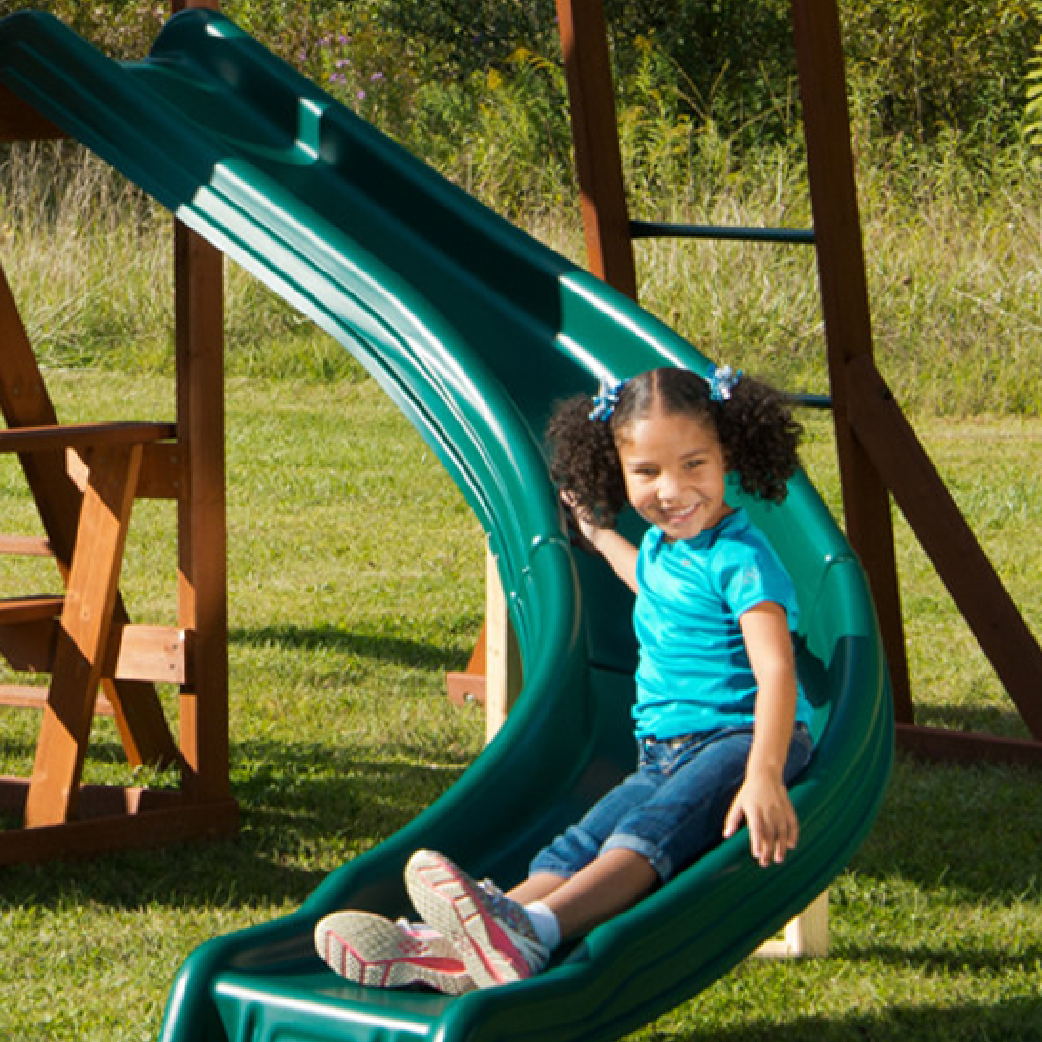 Is The Playset Age Appropriate?
Another important thing to consider when choosing a set that is safe for your kids is the age range. Not all set are made for every age group and many playsets are crafted for a specific age range. However, we believe that regardless of which set you purchase your kids should be able to enjoy it no matter if they are two, five, or twelve. That's why all our swing sets and playsets are specifically designed with safe, accessible play features that all kids can enjoy.
Be it the Cedar Brook, Jamboree Fort, or the popular Tellico Terrace, all these quality sets have fun activities for kids big and small. For instance, the swings and clubhouse areas provide a fun space for kids to learn and develop core skills, while the slides are great for building confidence. Once they get a bit bigger, they'll want to try conquering the twister tube slide or crossing the monkey bars.
No matter which level of play your kids are ready for it's important to choose a set that's not only super safe but will also grow with them. Doing so will ensure that they will never run out of exciting new playset experiences. However, before you can do any of that you'll need to consider how much space you'll need.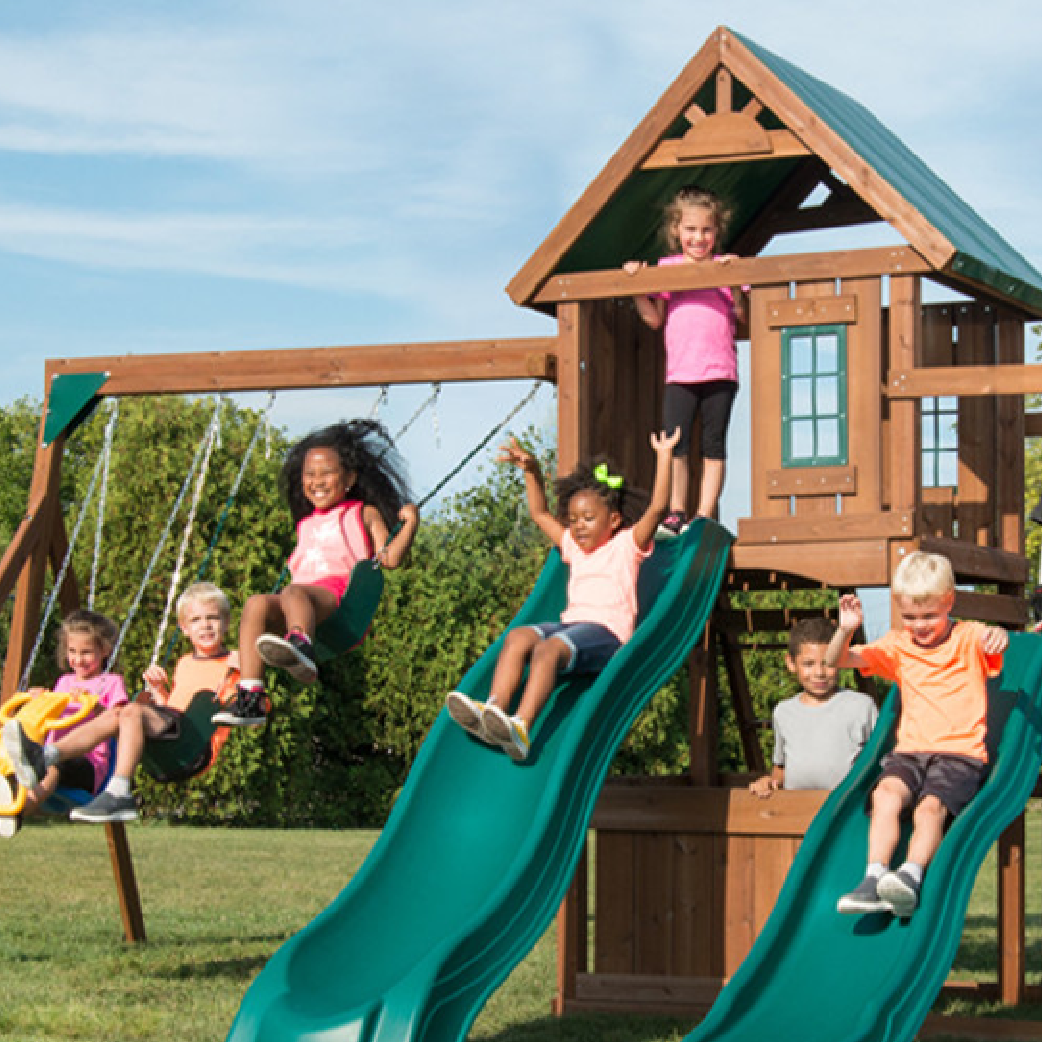 How Much Space Does A Playset Need?
When choosing a playset, it's important to consider the amount of space that you have in your backyard. You will need enough space for the swing set itself, as well as a safety zone around it. We recommend a minimum safety zone of six feet around the swing set for added safety. Also called the "Minimum Use Zone", this is the recommended area where kids should be playing. It should be free of any hazards, such as trees, fences, stones, or garden tools.
When calculating the size of the safety zone, you will also need to consider the height and width of the swing set. If you have a smaller yard, we recommend that you choose a swing set that is designed for small spaces. For example, our compact Trekker Swing Set is perfect for yards with limited space.
It's also important to consider the height of the swing set when calculating the size of the safety zone. Taller swing sets will need a larger safety zone to account for the height of the swings. Swing N Slide offers a variety of swing set models that are designed for different yard sizes. Our customer service team can help you choose the perfect playset for your backyard.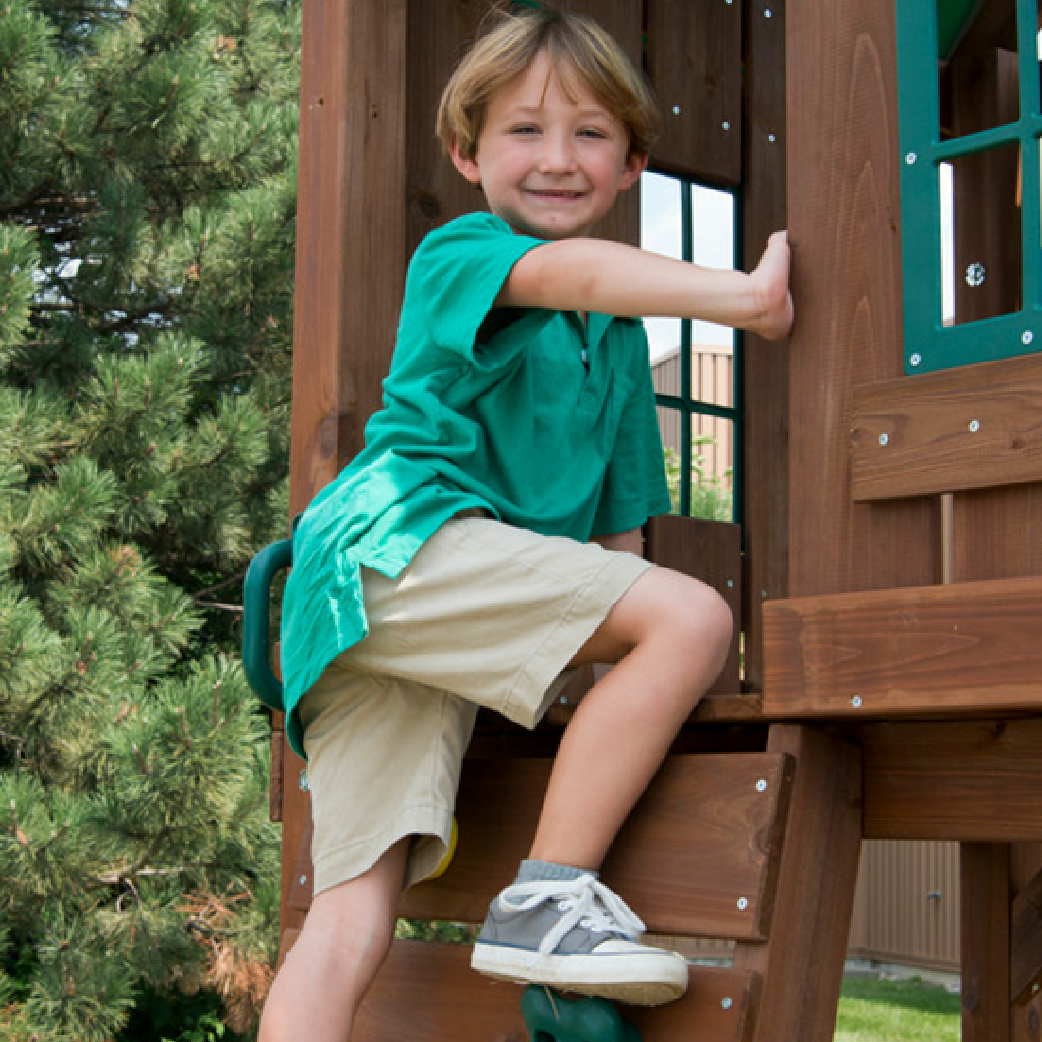 What Other Safety Features Should You Look For?
There are a few other important features to look for when choosing a swing set. These features can help to make the playset even safer for kids to use. First, look for a swing set that has been tested to meet ASTM safety standards. This is a voluntary safety standard that is developed by the American Society for Testing and Materials. It is widely recognized as the gold standard for playset safety. All our swing sets are designed to meet or exceed ASTM safety standards. We also test our products regularly to ensure that they continue to meet these high standards.
Warranty and customer service are also important considerations when choosing a swing set. At Swing N Slide, we believe that every good playset deserves an equally good warranty. That's why we offer a lifetime warranty on our slides and climbing mountains.
The playsets themselves have a five-year limited warranty on all wood components and a one-year limited warranty on all non-wood components such as plastics, hardware, swings, tarps, ropes, etc. This gives you peace of mind knowing that your investment is protected. We also have a team of dedicated customer service representatives who are ready to help with any questions or concerns that you may have. You can also find a detailed list of all our warranty information and FAQs on the customer support page of our website.
Wrapping up
Swing sets are a great way for kids to stay active and have fun. However, it's important to choose a set that's fun, long-lasting, and most of all safe. When picking a playset that is perfect for your family, look for one that is made of high-quality materials, has been tested to meet the industry's best safety standards, and comes with a strong warranty.
When it comes to playset safety, Swing N Slide is the name that you can trust. We have been designing and manufacturing safe, high-quality swing sets for decades and our products are designed to last, so you can enjoy them for years to come.
If you have any questions about swing set safety or which playset is right for your backyard, our customer service team would be happy to help. Give us a call today.