Small Space, Big Adventures: The Best Playsets for Small Yards
15th Sep 2023
Swing sets are an important part of kids' childhood. These backyard-play structures allow children to enjoy hours of fun while allowing you the peace of mind knowing they are engaging in good old fashioned outdoor fun. Depending on the types of games, children can benefit in various ways, including muscle development, enhanced coordination, improved social and communication skills, and creative thinking. Allowing children to take breaks from stressful activities and enjoy playtime will work miracles for their mood and overall well-being.
But selecting a suitable playset that will make you a hero in the eyes of your little ones is not a walk in the park. One thing to give great consideration is the size of the available space. Each playset design has its own specified minimum use zone; this comprises the structure's footprint plus an additional 6ft safe zone on all sides. A common problem parents face is the issue of small backyard playground.
You may feel that no matter your budget, you can't get your child the playset you want because you don't have enough space in your yard. However, just because a playset has a small footprint doesn't mean it sacrifices important features. Some outdoor children's playsets will allow you to still provide big adventures even in small backyards. Let's take a look, shall we?
Making the Most of Limited Space
When dealing with limited space for a backyard playground, it's important to think creatively and unconventionally to maximize space usage without compromising on fun. Using space horizontally and vertically helps achieve multi-level play zones. Swing-N-Slide offers a range of compact swing sets that take up little room but allow children to enjoy high-energy adventures. Examples of these playsets for small backyards include: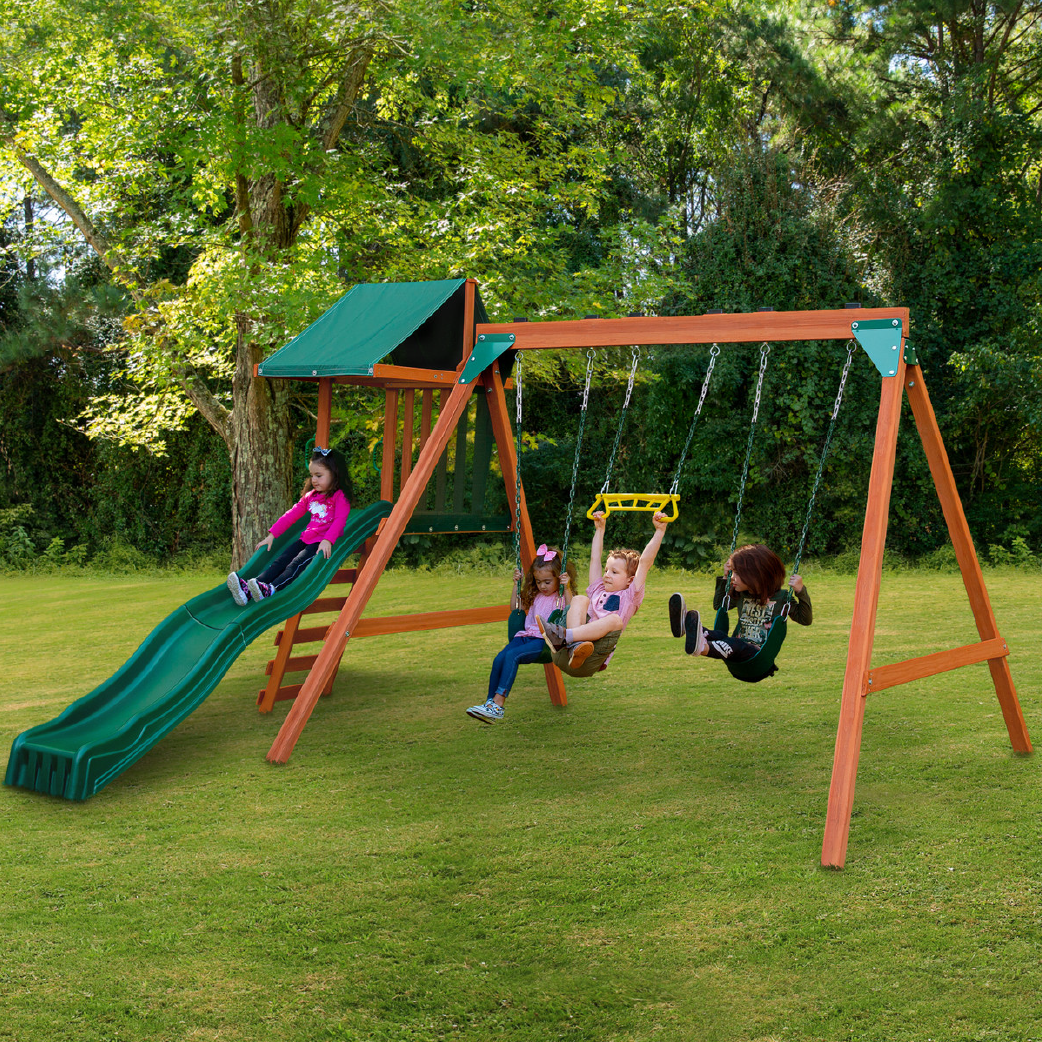 The Ranger/Ranger Plus
With two swing seats and a gym ring/trapeze combo swing, the Ranger and Ranger Plus present a new spin on the classic swing set design to take up small backyard space while enabling your kids to enjoy tons of fun. The swings use coated chains for an anti-slip, secure grip, and each one supports approximately 115 pounds.
The chains can be adjusted for children of different heights. The Ranger Plus includes a play deck with a two-piece plastic climbing wall and wave slide for extra fun and imaginative play opportunities. The playset designs are easy to assemble and come with clear instructions for a DIY installation.
The wood material is pre-cut cedar lumber known for its high strength and durability. The natural color of cedar also pairs well with the green color of the play deck and wave slide to add charm and style to your small backyard playground.
Features of the Ranger Swing Set
Two belt swings with pinch-free plastisol-coated chains
A gym ring/trapeze combo with coated chains
Cedar posts
104 inches long by 92 inches wide floor space
Adjustable swing chains
115 max weight capacity per swing
CPSIA and ASTM-compliant
Features of the Ranger Plus Swing Set
Two belt swings with pinch-free plastisol-coated chains
A gym ring/trapeze combo with coated chains
Cedar posts
A play deck with a climbing wall and wave slide
144 inches long by 131 inches wide floor space
Adjustable swing chains
115 max weight capacity per swing
CPSIA and ASTM-compliant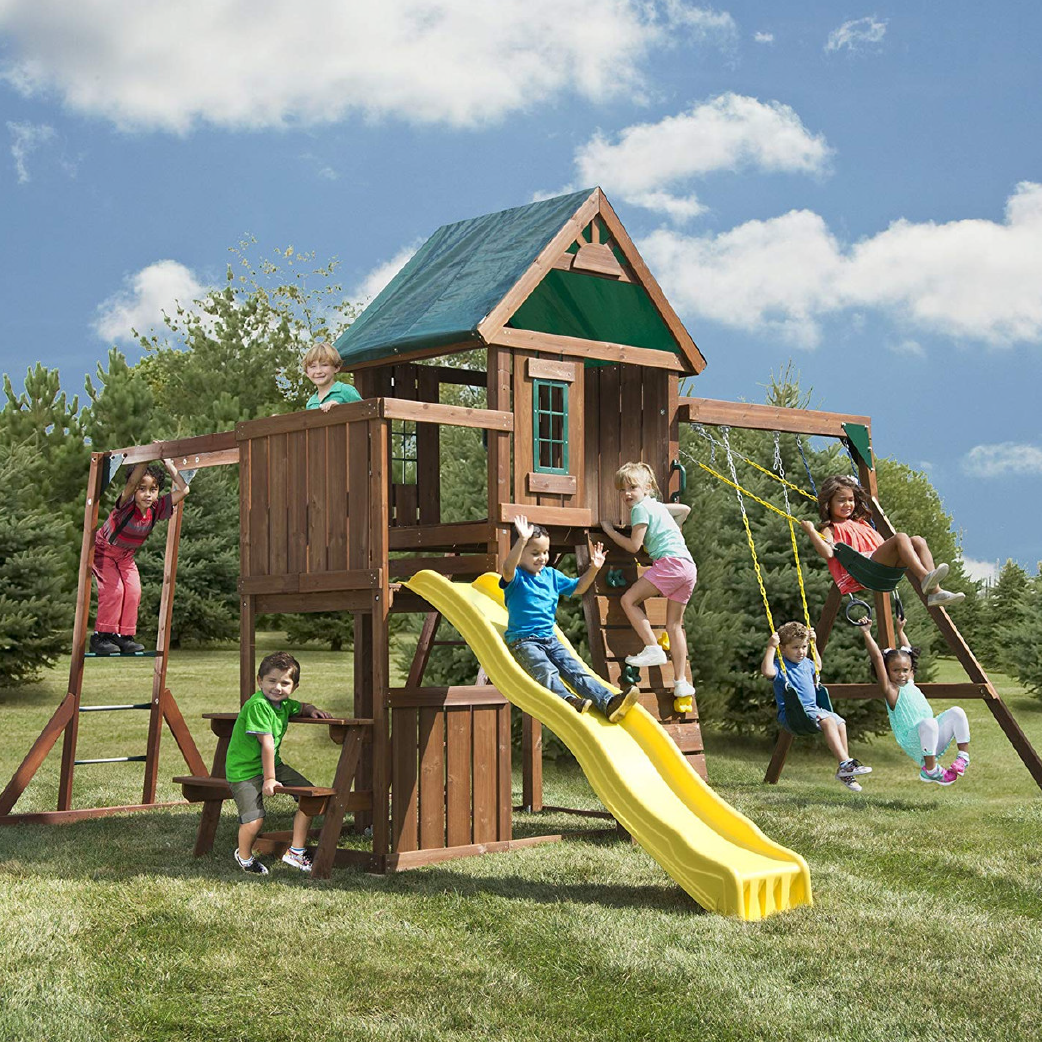 The Altamont Wood Complete Playset
The Altamont Wood pairs two swing seats with a trapeze/ring combo, a ladder, a climbing wall, and a wave slide into a multifunctional playset design that encourages physical activity and creativity. This playset is designed for private backyard use only. The setup just takes a 173" by 166" yard space but is loaded with tons of features to enable thrilling adventures.
Additional accessories include a telescope, steering wheel, and a picnic table for kids who want to pretend to be astronauts, pirates, etc.
Features of the Altamont Wood Playset
A wave slide
Climbing ladder
Climbing wall with six colorful rocks
Rooftop
Built-in sandbox
Picnic Table
2 Swing seats with adjustable chains
Trapeze Rings
Telescope
Steering wheel
Anchors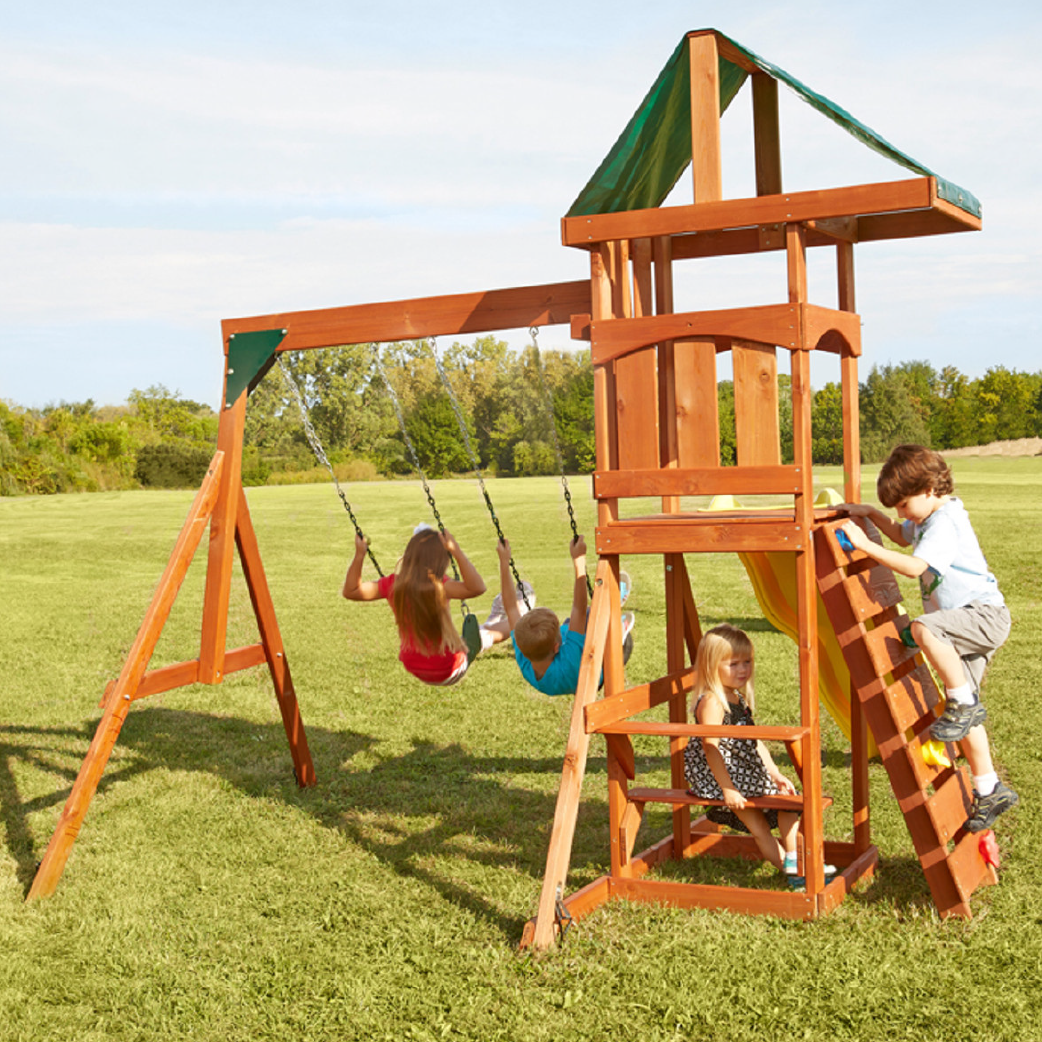 The Scrambler
This playset combines two swings, one slide, a rooftop, a climbing frame, and a picnic table into a space-saving design. Children can zoom down the wave slide, whirl on the swing seats, climb the rock wall, or enjoy a picnic at the table under the deck with their friends. The wood material is pre-cut lumber, but the wave slide is plastic. The setup takes just a 10' by 10' 2'' yard space.
Features of the Scrambler
2 swing seats with adjustable chains
One Slide
A rock-climbing frame walls
Built-in picnic area
Play deck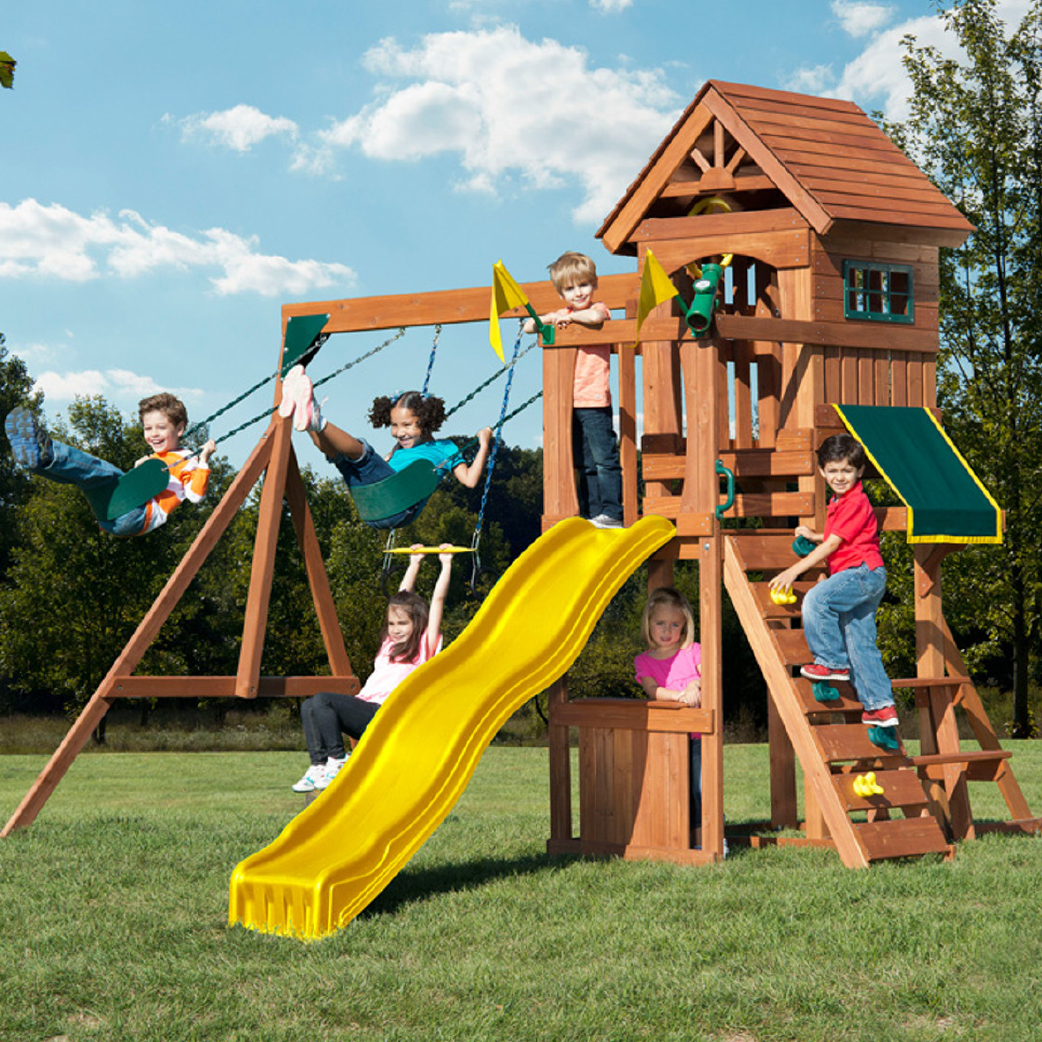 Jamboree Fort Play Set
If you are looking for a compact set with even more features for fun and games that encourage social interactions among children, try the Jamboree Fort Playset. It combines a play deck with a climbing frame and wave slide plus two swings and a ring/trapeze combo into a charming multifunctional design for preschoolers aged 3 to 4 years and school-age kids between the ages of 5 and 12.
The space under the deck includes a picnic table and can be used as a picnic area. The deck features a wooden roof and windows, a telescope, and a steering wheel for kids who want to try various sea or space-themed games. The setup requires only a 13' by 13' 8'' yard space.
Distinguishing features of the Jamboree Fort Playset
A playdeck
Wave slide
Climbing ladder
Built-in picnic table
Trapeze rings
Two swing seats with adjustable pinch-free plastisol-coated chain
Steering wheel
Telescope
Safety First: Swing-N-Slide's Approach
These are just a few examples of playsets from Swing-N-Slide; we make outdoor children playsets in various designs and only use the safest lumber and hardware. Our designs integrate special features such as smooth edges, pinch-free swing chains, flat, broad ladder steps, and grab angles at strategic locations.
Our playsets, accessories, and add-ons are intentionally designed to satisfy ASTM and CPSIA standards and specifications. They also undergo extensive testing for each recommended activity to ensure they perform according to expectations.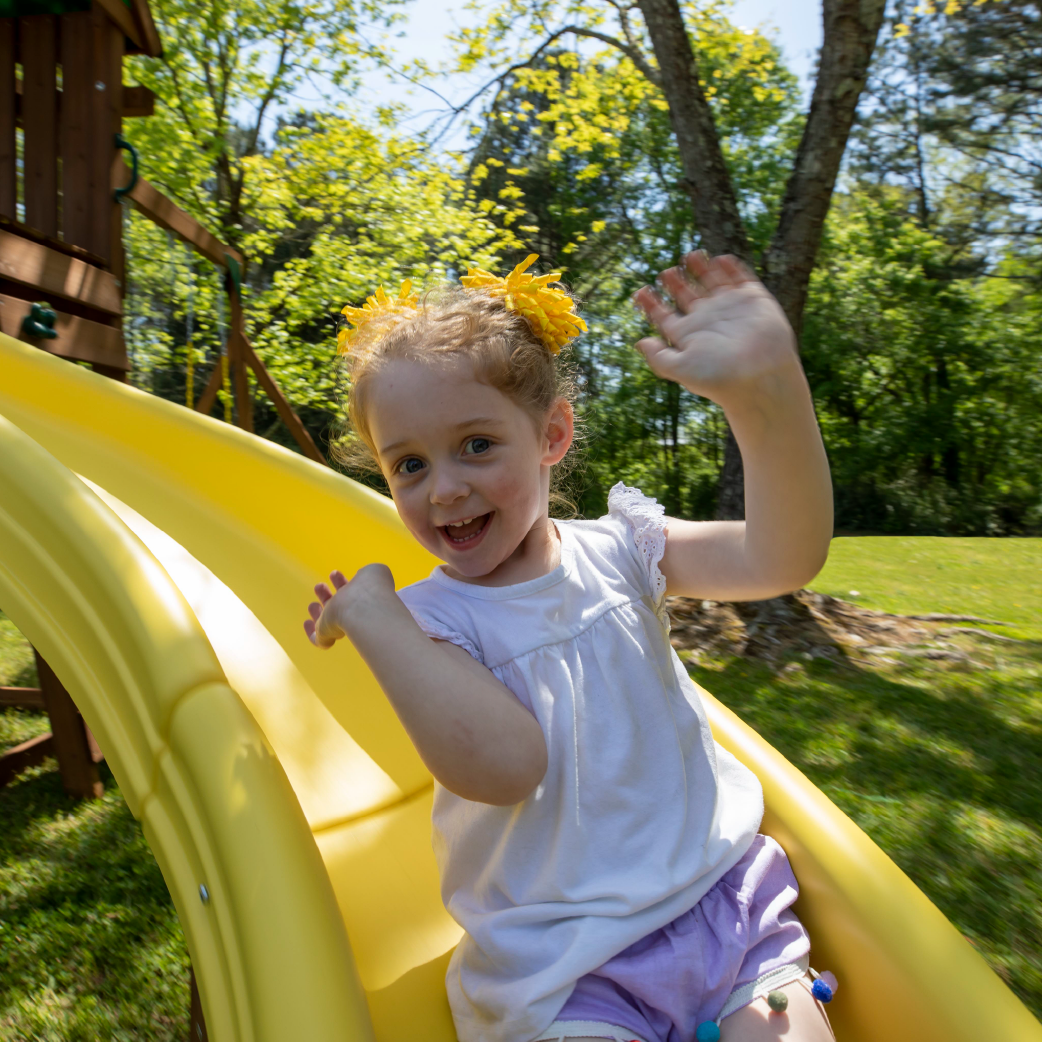 Tips for Small Backyard Playset Selection
If you are considering getting a playset for your kids but are worried about the size of your backyard, use the following tips to narrow down your options:
Determine the available space.
It's wise to start by determining the amount of space in your yard so you know which playset sizes to consider. The last thing you want is to bring home a playset that doesn't fit into your backyard so it's time to get out the measuring tape and compare it to the listed dimensions of our swing sets.
Prioritize features that promote skill development.
Not all outdoor childrens playsets are designed equal. Even from just their looks, you can see some designs are open-ended, allowing children to create their own characters and storylines, while others limit play to specific outcomes. Of course, just because a playset is said to be compact doesn't mean it can't give your kids a workout.
Some important features to think about prioritizing include:
Climbing Walls: Climbing walls feature gentle slopes, and many hand and foot holds for kids who enjoy scaling structures. Climbing activities improve strength and coordination.
Chain Ladders. Ladders are for senior kids; they help improve balance, coordination, and strength.
Swings: Swings stimulate various parts of children's brains, helping improve spatial awareness, rhythm, balance, and muscle control.
Trapeze bars: Flying and hanging on trapeze bars is good for flexibility and improved balance and coordination.
Rooftops: Playdecks offer a cozy retreat for children when they tire of playing in the open air. They protect children from harsh elements such as sun, wind, and rain, allowing them to enjoy playing longer. Some decks include accessories such as telescopes and steering wheels to encourage creative play.
Wave slides: Sliding while seated requires great coordination and balance, as well as upper and lower body strength. It also improves social skills as children learn to move down the structure without hurting each other.
Wrap-Up
Just because you have a small backyard doesn't mean you can't provide your kids with equipment for adventures and fun play. Swing-N-Slide specializes in exceptional wooden playsets in various shapes and sizes and with numerous accessories and add-ons to bring joy to your kids' lives. Whether you are looking for ergonomic playsets for large backyards or systems that pack a ton of features in compact designs, we guarantee you will find something suitable.
We use the safest wood and hardware and include accessories and add-ons to ensure our products meet safety standards. Check our products page for more details, the perfect playset for your child is a click away!