The Many Swings At Swing-N-Slide
20th Jul 2023
A playground doesn't feel complete without a swing - and kids know that! You simply can't beat the feeling of flying high on a high-quality swing. It's the kind of classic playground fun that never gets old and that kids will remember for a lifetime. That's why swings are the star of the show and why we offer several types of swings so you can pick and choose when setting up your set.
From the humble yet classic swing seat, to more modern and exciting options like the nest swing, we've got all that and more! However, you can't just buy any old swing. It's important to take time to study the different options so you can know the best kind of swing for your kid.
Don't worry! At Swing-N-Slide, we build customizable backyard swing sets to match your kids' energy and play style. In this article, we'll showcase some of our best swings to help bring your backyard play experience to the next level.
Swing Seat
This swing is the classic option, the one you love to see on any playground. It's flexible enough to adapt and bend to every body shape while still being super comfortable. In this swing seat, you'll find a light yet durable product perfect for any playground.
Featuring a 58" zinc-plated steel chain that comes with vinyl coating for a pinch-free grip, this seat makes swinging fast both safe and easy. Thanks to its steel quick-link connections, you'll easily attach this swing seat to almost any wooden swing set.
When you look at this classic swing seat, you're looking at a safe 27" plastic seat built to last. With its curved, cozy design it allows for all year fun and is sure to be a staple of your kid's outdoor play. It is perfect for afterschool playdates with all your kid's friends or for quick breaks from homework. This seat holds up to 115 lbs. and you can attach it to any standard swing hanger. Every one of our swing seats meets or exceeds ASTM standards, and this swing seat is no exception.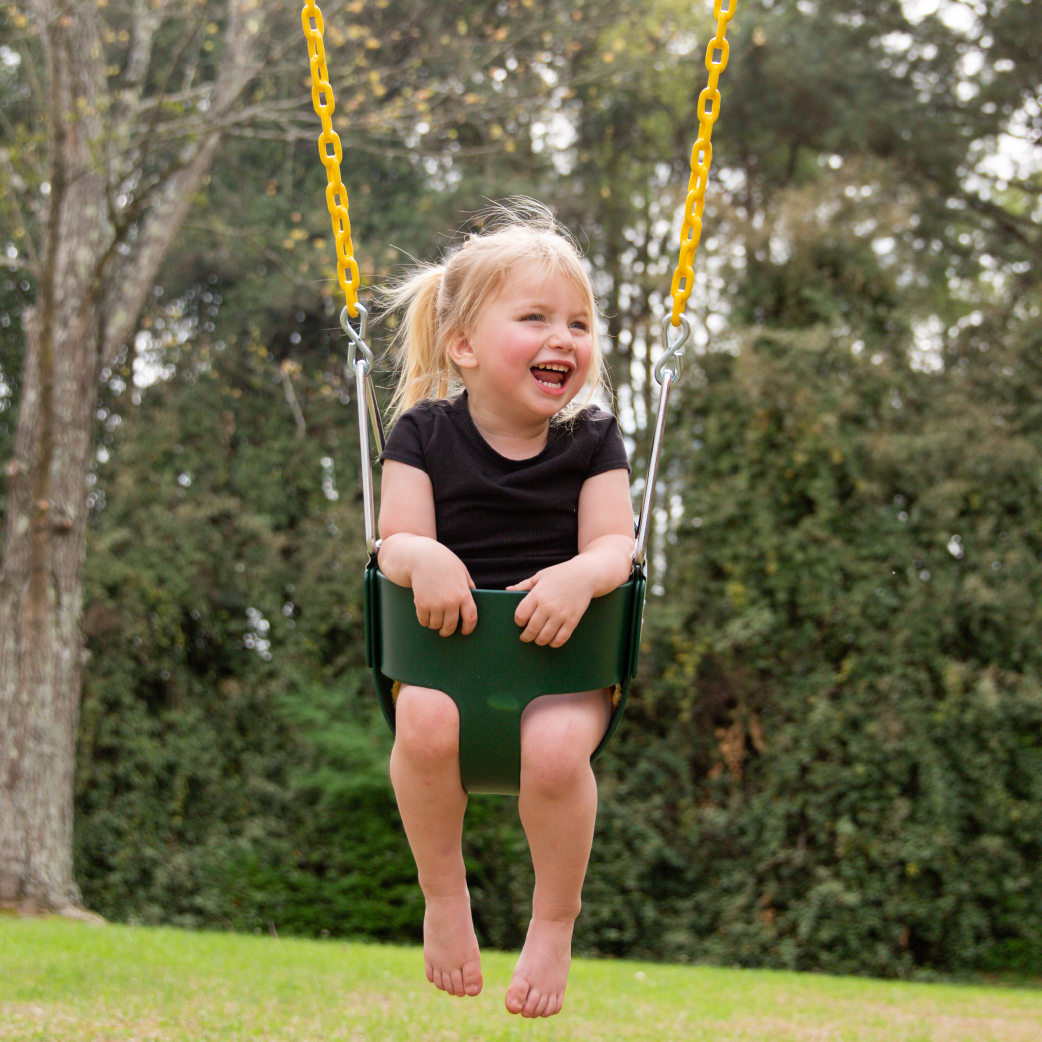 Child Seat
Want a great way for even the littlest member of the family to join in the outdoor excitement? The child seat is the perfect combination between safety and swinging fun. It's crafted from a durable one-piece construction in a gorgeous green color, plus a comfortable safety belt.
This swing seat supports up to 55 pounds and, like the classic swing seat, you can attach it to any standard duty swing hanger. It's the perfect no hassle no stress option and makes outdoor play a breeze.
Our motto is safety first, and because of that, this child swing seat comes with a nylon rope that provides a pinch-free grip, so you know your kid will never get their fingers caught. Plus, this swing is specifically designed for comfort so your little one can swing to their hearts content.
The perfect place to mount this seat is high enough off the ground for fun yet low enough for safety. That way, your child will use both their feet to move and swing around. Feel free to fit more than one seat on each frame and have multiple kids having fun together at once!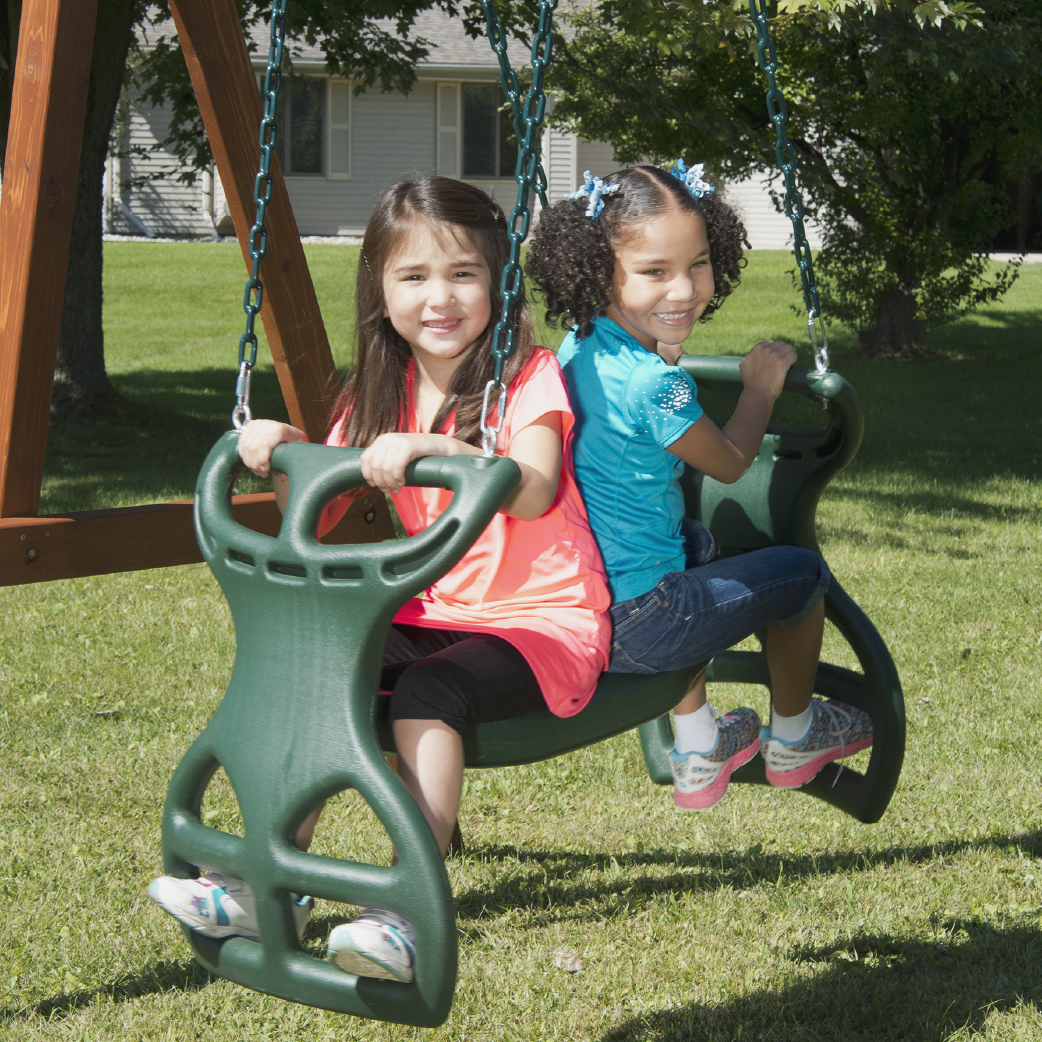 Glider Swing
Are you ready for a two-for-one? The dual ride glider swing is the go-to choice for kids to bond while they swing and fly high. It's perfect for families with two siblings who want to sit in the swing seat at the same time. Not only that, but it's also great for promoting cooperation and building friendships. The best part is they will never pinch their hands on any chains!
This design can hold up to 150 lbs., making it perfect for two little friends who want to spend some time on the playground together. Although this swing is a double seat, you'll have half the trouble attaching it to your swing set's hanger.
Does it seem a little confusing? Don't worry! Our products come with instructions and illustrations, so you knock this one out of the park in no time.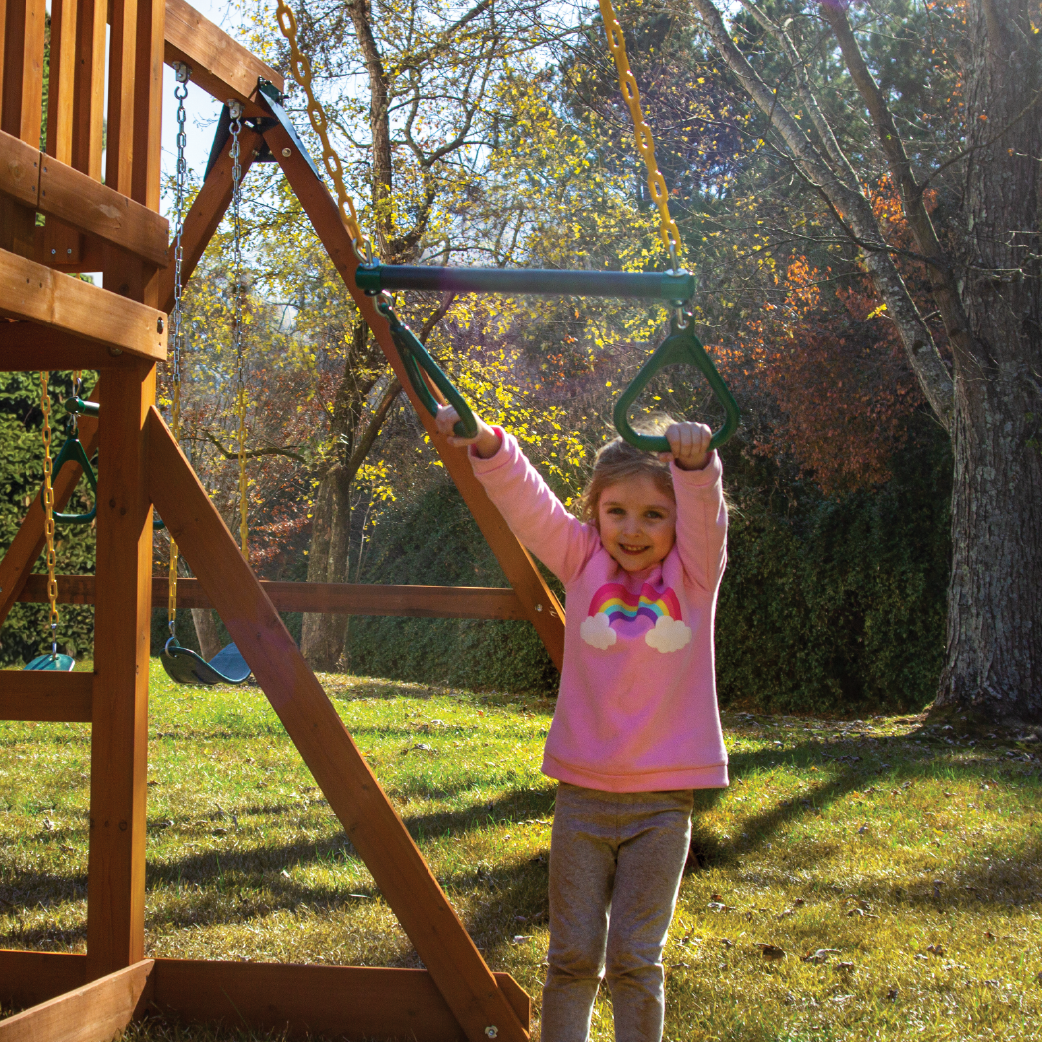 Trapeze Bar
Do you have a little gymnast in the family? Maybe just a guy or gal who loves a little adrenaline rush in the morning? Having a trapeze bar right in their own backyard is the ideal way to scratch that itch while promoting healthy habits. Plus, it's a great for adding variety to your swing set by giving your kids even more safe ways to play.
What's the best part about the trapeze bar? You can install it without much hassle or having to change the structure of your swing set. After installing it, your kids will have countless hours of fun!
If you already have a Swing-n-Slide playset, you can attach the trapeze bar for a new twist on an old friend!
This incredible package includes plastic hand grips that are super durable, and a super safe trapeze bar. It's the perfect gift for the little ones with lots of energy!
The trapeze bar can hold up to 250 lbs. when you match it with Extra Duty Swing Hangers, which we offer separately.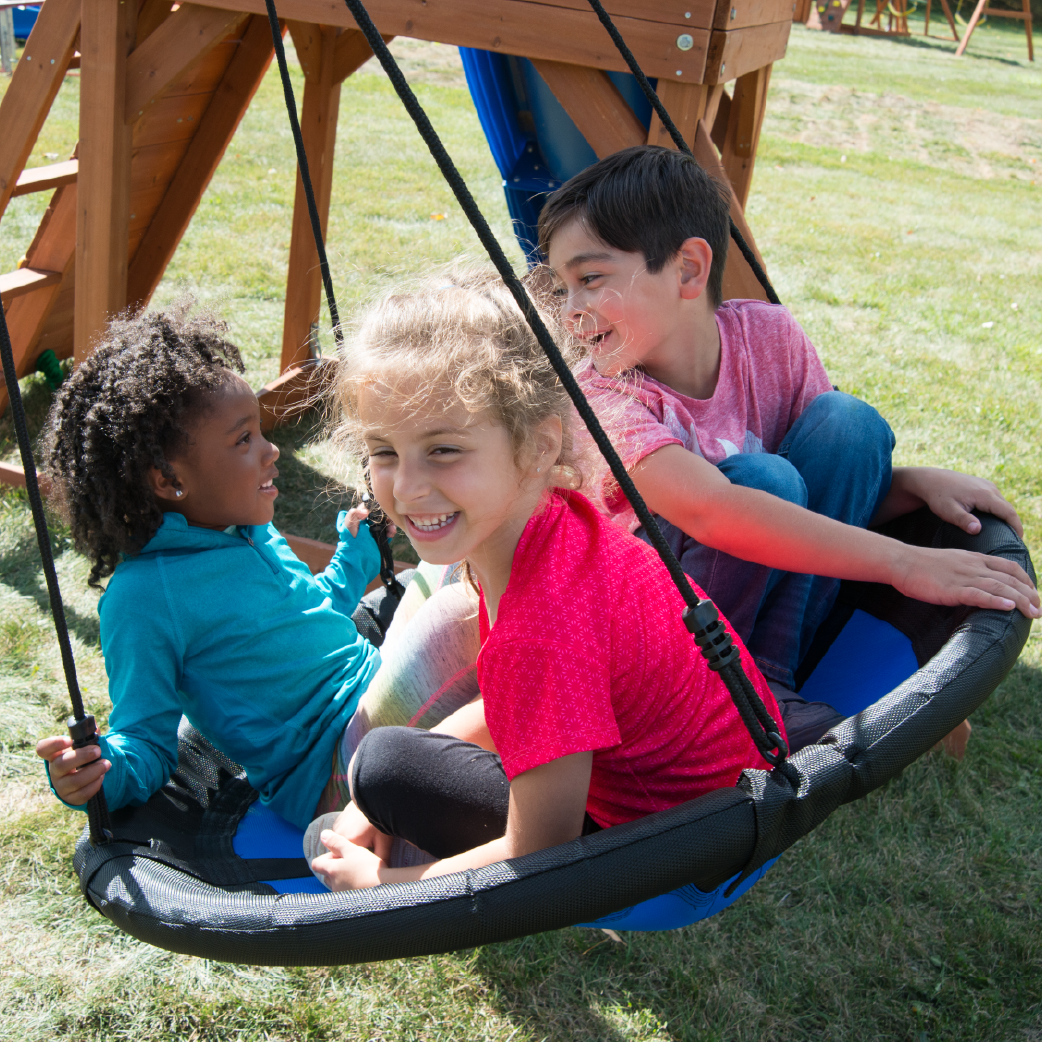 Nest Swing
Out of all our swings the nest swing has become the new playground favorite. Everyone loves it and you can probably see why. This swing seat can fit multiple kids at once, making it a fun, social experience for everyone involved. Not only that, but it also teaches kids about sharing and taking turns. It's an incredible opportunity to train agility, balance, and coordination - the children's ABC.
This swing seat can also become super relaxing when used by one child. Kids can lay down and unwind under the bright sun during a summer afternoon, or even use it as a unique study space. The best thing about this swing is its versatility since there are so many ways to enjoy it!
The structure is made with a steel frame and heavy-duty fabric: it's where secure sturdiness meets comfort to provide countless hours of fun. The nest swing can hold up to 200 lbs. and will hold up to three children at once.
Summing Up Your Swing Adventures
At Swing-n-Slide, you can find anything from classic swing seats to comfortable and brand-new nest swings. Choose one or many to make your kid's playground experience more exciting than ever!
You already know swings are the perfect piece to finish the playground puzzle - and now you can pick the piece you love the most! Regardless of which one you choose these five options will provide a safe and fun experience for your children. For more information feel free to browse our website or give us a call. A better backyard experience is waiting!